SUNRA electric motorcycle Crystal——Road Test Report
Time: 2020-02-26 14:02 Admin: admin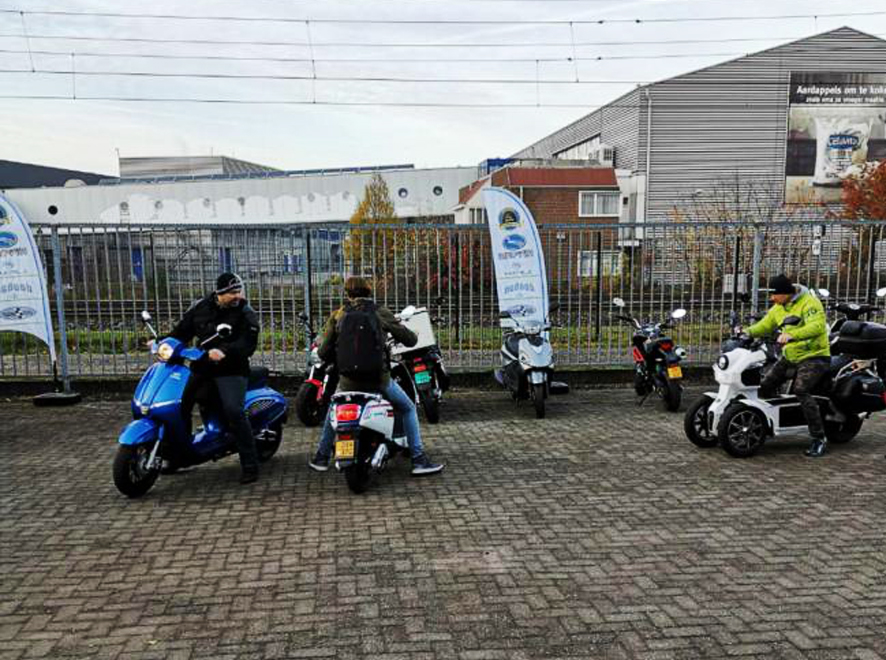 On early February, when the customers in Netherland received the ocean shipped electric scooters from SUNRA, they began to have a test ride. The following is a test drive report of Crystal e-bike.



Model name:Crystal





Sample test date:2020-02,Netherland





Accordingly to:GB/T 5378-2008




GB/T 4570-2008




QC/T 29115-2013
SUNRA Electric motorcycle Crystal
Range test
Test speed:35km/h-40km/h
Road condition:Flat road
Conclusion: with one full charging, the range is 57km with one 60V20AH lithium battery and 116km with 2*60V20AH lithium batteries
SUNRA Electric

scooter
Durability test
| | | |
| --- | --- | --- |
| Road condition | Range(KM) | Loading (KG) |
| Flat Road | 42 | 75 |
| Moutain Road | 21 | 75 |
| Bad Road | 12 | 75 |
| Night Road | 15 | 75 |
After the durability test with all kind of road conditions, all of the electric parts and
m
echanical parts perform well.
SUNRA e-mobility Crystal is equipped with front & rear disc brakes with an Anti-Lock Braking System, it can precisely control the brake status of the front and rear wheels, the brake is strong enough for the downhill road.
The display shows useful information such as

the battery capacity

, speed, mileage and so on

exactly

.

Intelligent technology s

tep

s

you back from daily tediousness

. The large capacity battery pack ensures max range up to 120KM

,

and

it is portable,

the rider can cha

rge

the battery convenient

ly

with quick connect plug

.

1500W SUNRA self-developed motor, makes it perfectly balanced in terms of performance and consumption.





T

he quality of all lamps are reliable,

the lighting effect is remarkable and is

good enough for the test

under

night road condition.

Crystal electric bike has a s

oft, wear-resistant saddle with good water-proof performance. The most important, no matter how long time you ride it, Crystal provide comfort.

Only some components(such as front fender) loosened after the long time test, but it is the acceptable problem,as the scooter sample had been tested with some bad road condition, maybe some screws were loosened, and the customers can fixed them easily.
Sunra Crystal, a clear electric scooter,has plenty of outstanding performance, just get on it, take your mind go on a journey.