Younger, more upmarket & more fun
Time: 2020-08-24 14:42 Admin: Arlene
Technology makes life better. Our goal is to make everyday travel easier.There comes our hot selling electric scooter Rainbow . Why is it so popular and attractive?
Here may be the answers:


1

DESIGN
Technology that adds color to your life. With tailored colors, Rainbow gives you freedom to choose the scooter for your style. Our Rainbow takes the world-class design and although it is not big model but it even could be for two riders.
The intelligent LCD dashboard and easy-to-use controls make the Rainbow ideal for your everyday urban commute.



2 BATTERY
MORE FUN MORE SECURE MORE FREE.

The removeable battery allows you to charge your Rainbow any time you have access to a power outlet, it is so light, one battery is only 9kg. The battery is equipped with 4A Charger, the charging time is shorten to 5 hours.
Our battery: It is environmentally friendly. LED Battery Level Indicator.
The most important is the BMS. SUNRA Rainbow's adopts an intelligent battery management system. It has Overcurrent Protection, Overcharge Protection, Over-discharge Protection, Temperature Protection, Short Circuit Protection and etc.

3

PERFORMANCE
The FOC vector controller and Sunra motor give you instant acceleration. Front disc brakes and rear drum brake provide a safe riding experience throughout your journey.

FOC VECTOR CONTROLLER
The FOC analyzes riding data in real time and works with the motor to give you a more comfortable riding experience.

FRONT & REAR HYDRAULIC BRAKES
Our front and rear hydraulic brakes engage instantly to significantly reduce the scooter's braking distance. Dry braking distance 1.4m and Wet braking distance 1.8m.
EBS Energy Recovery System
Our electronic braking system recycles up to 6% of the energy generated after braking back into the battery pack, which effectively extends your cruising range which means more time on the road.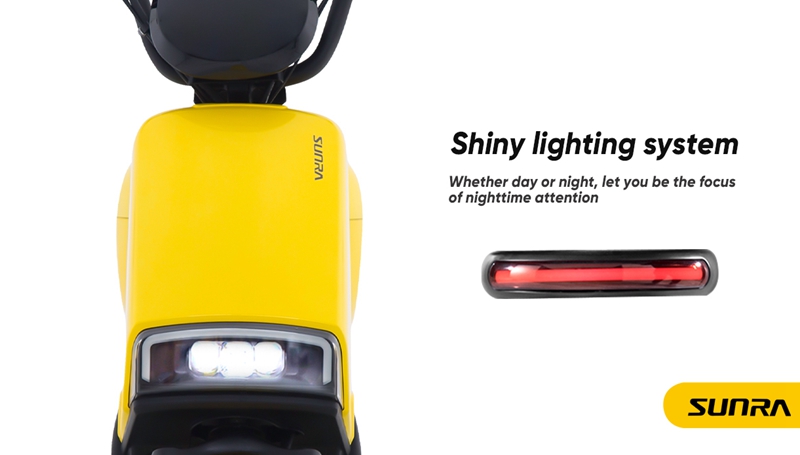 4

SAFETY
YOUR SAFETY IS OUR FIRST PRIORITY

E-bike Rainbow uses a 360° lighting system for your safety. Our daytime running light, LED light, LED taillight give you maximum visibility when riding your scooter.
From the external plastic molds to the internal frame, we invest in the best materials and technology for safety and durability. The scooter's key elements use automotive-grade waterproof components. In rainy weather, the control, signal, and power cables are safe from short-circuiting, and with a 230mm wading depth, the Rainbow is all-set for riding in rain and snow. Wading designed in accordance with the 300mm waterproof standard.

It has anti-theft Protection, Anti-theft alert.

The smart key has Multiple Remote Controls:

You could Remotely start and power up your vehicle.

You could realize Remote vehicle fortification.

You could Remotely turn alarm on and off.You could Remotely lock your vehicle.